Israeli Repression of the Palestinian People Continues, With More Shootings and Kidnappings
February 29, 2016
| | |
| --- | --- |
| | |
| Palestinian with special needs, Musab al-Ghazali, 26, was killed by trigger-happy Israelis, funeral February 29, 2016 | Palestinian female captive Yasmin al-Tamimi, 21, who was critically injured by trigger-happy Israelis, filel, February 29, 2016 |
Jerusalemite buried amid tight Israeli restrictions
February 29, 2016, OCCUPIED JERUSALEM, (PIC)--
Nearly 30 family members were allowed to march in the funeral of Musab al-Ghazali, 26, who was killed by Israeli gunfire two months ago.

Musab, who has special needs, was killed 65 days ago in occupied Jerusalem for allegedly trying to carry out a stabbing attack.

Tight restrictions were imposed throughout the occupied city to prevent people's participation in the funeral.

Addameer Institution earlier said that Israeli occupation authorities had stepped up repressive measures on funeral processions of those who allegedly carried out anti-occupation attacks.

The measures included this time the confiscation of mourners' cell phones, preventing journalists' presence, limiting the mourners' number to 30, imposing heavy fines, and handing over the body after midnight.
Female captive transferred to hospital
OCCUPIED JERUSALEM, (PIC)-- The lawyer of detainees and ex-detainees committee, Tareq Barghout, revealed that the Palestinian female captive Yasmin al-Tamimi, 21, was transferred, on Sunday, from Hasharon Israeli jail to hospital.

In a statement, Barghout said that she was taken to hospital after she had suffered acute infection in her right arm due to being shot with several bullets by Israeli forces. There is a suspicion that she has gangrene, he pointed out.

The lawyer added that she did not attend the court session because of her severe health condition. She underwent several surgeries in her arm and waist for removing bullets fired at her during arrest in al-Khalil on February 13.
IOF arrests Palestinian for attempting to cross Gaza security fence
KHAN YOUNIS, (PIC)--
Israeli Occupation Forces (IOF) arrested Sunday evening a Palestinian youth for attempting to cross the security fence to the east of Khan Younis in the southern Gaza Strip.

Quds Press quoted local sources as saying that IOF soldiers forced the arrested young man to take off his clothes under gun threat. The troops also took him to an unknown destination inside 1948 Occupied Palestine to be questioned by the Israeli Shin Bet officers.

Sneaking into the 1948 Occupied Palestine by Gazans has been increased recently for the purpose of seeking work. Dozens of Gazan people have been arrested as a result.

IOF steps up West Bank arrests
WEST BANK, (PIC)--
The Israeli Occupation Forces (IOF) carried out at dawn Monday dozens of arrests across West Bank and occupied Jerusalem.

Six detainees were arrested in Nablus province including three from Beit Furik town east of the city.

A number of houses were stormed and searched as IOF soldiers broke into different areas in Nablus city.

Tight military restrictions were imposed on the city since the morning hours amid intensive flights of army choppers over the area.

A Palestinian young man was also arrested from Jenin.

In al-Khalil, IOF stormed at dawn today several neighborhoods throughout the city and arrested two locals including a 12-year-old child.

Two other youths were arrested in Surif town while another was detained in Beit Ummar town after the confiscation of his vehicle.

Three similar arrests were carried out in Occupied Jerusalem.
40 Palestinians arrested after injured by Israeli bullet fire
February 29, 2016, RAMALLAH, (PIC)--
The Israeli occupation forces (IOF) arrested 40 Palestinians after they injured them with bullet fire since the start of the anti-occupation uprising in early October, a rights group reported.

Head of the Palestinian Prisoners Society (PPS), Abdullah al-Zaghari, said the IOF shot and injured 40 Palestinians before they arrested them shortly afterwards on allegations that they attempted to carry out anti-occupation attacks.

According to al-Zaghari the injured arrestees have been subjected to mistreatment and torture in Israeli hospitals and lock-ups. Several of them have also gone through a sharp health deterioration as they had been exhaustively interrogated and left without urgent treatment for long hours.

Two injured detainees had their legs amputated due to medical neglect while others were aggressively beaten to force confessions, the activist added.

A PPS attorney who visited the injured Palestinians at the Ofer jail raised alarm bells over the agony they have been made to endure due to medical negligence.

PPS head in al-Khalil, Amjad al-Najar, said 26-year-old Jawad al-Feroukh has gone through a sharp health deterioration and risks to have his right hand amputated due to the serious complications inflicted by bullet wounds sustained on December 12.

Al-Najar called on the International Red Cross Organization to work on providing the detainee, sentenced administratively to four months in the Negev prison, with urgent medical therapy before it is too late.
Israeli settlers break into al-Aqsa Mosque
OCCUPIED JERUSALEM, (PIC)--
A group of Israeli settlers stormed Monday morning al-Aqsa Mosque via the Israeli-controlled al-Magharibeh gate under heavy police protection.

The settlers tried to perform Talmudic rituals in the holy shrine in clear provocation to the Palestinian worshipers who started shouting Takbeer in protest against the settlers' provocative presence in the Islamic holy site.

Occupied Jerusalem has witnessed rising tensions over the past five months in protest against Israeli almost-daily break-ins into al-Aqsa Mosque.
VIDEO: Infamous Settler Anat Cohen Disrupts Peaceful Commemoration
On Wednesday evening, 24th February 2015, a commemoration for the victims of the 1994 Ibrahimi Mosque massacre in occupied al-Khalil (Hebron), was interrupted by infamous settlers attacking the group of Palestinians and internationals peacefully remembering those killed and the implications of this massacre on basic Palestinians rights.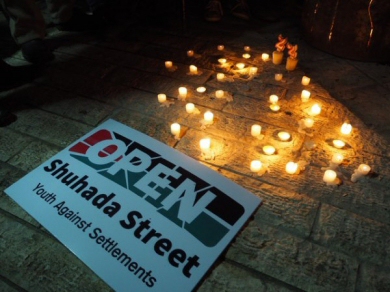 27th February 2016 | International Solidarity Movement | al-Khalil Team
The residents of the Salaymeh neighbourhood which is located directly next to the Ibrahimi Mosque, have been gathering every day around a nightly bonfire for the last few months. Doing so as an act of defiance against settlers from the illegal settlements, foremost among them infamous settler Baruch Marzel, gathering at a settler-only bus-stop across the street. With their presence, the Palestinians are demonstrating that despite the lethal and non-lethal violence they have to face by settlers, they will not be intimidated by them.
On Wednesday evening, Palestinians and international supporters gathered in an event organised by
Youth Against Settlements
as part of their Open Shuhada Street campaign. With the importance of this gathering being to stress the vital yet peacefully displayed acts of resistance and defiance against the settlers and Israeli forces' continuous acts of intimidation, harassment and violence. For the families, the event can and will never be linked to any organisation or party, but will always stay an act of popular resistance any person is invited and welcome to join, as it's not a one-time event that gives them a feeling of security and solidarity, but the everyday gathering around this symbolic bonfire that is called the 'tanakeh' (Arabic word for the barrel the bonfire is lit in).
Candles were lit in commemoration of the
victims of the 1994 Ibrahimi Mosque massacre
, in which extremist settler Baruch Goldstein murdered 29 and injured more than 120 worshipers in the Ibrahimi Mosque in cold blood. In the aftermath of this heinous massacre, the Ibrahimi Mosque was divided and the main Palestinian market in Shuhada Street completely closed for Palestinians.
While a documentary about this massacre was screened, Israeli forces at the nearby checkpoint detained three Palestinian men and a girl that were on their way to join the event. Two heavily armed Israeli settlers stopped their car next to the Palestinians that had been detained for already more than half an hour for no reason, and getting out of the car threatened Palestinians. Even though they left, another settler, infamous violent Anat Cohen, arrived and slowly and deliberately drove her car into a big group of Palestinians gathered at the side of the road while insulting them through her open car window. The Israeli forces refused to intervene and let her drive off. She immediately made a u-turn and came back, got out of the car and started threatening, intimidating and attacking Palestinians and internationals, hitting them and trying to slap cameras out of their hands.
The whole time, the soldiers at the checkpoint were merely watching and refused to intervene and stop the violent assaults. Instead, as more soldiers arrived, they started violently pushing back the Palestinians.
At the end of an event supposed to peacefully commemorate the heinous massacre committed 22 years ago – two Palestinians had to be brought to hospital as a direct result of Israeli forces' violent assault on a group of people that were being attacked by an infamously violent settler – apparently the only person the Israeli forces were willing to protect as she was allowed to leave without any consequences for the disruption of the peaceful event, the harassment or the violent assaults.
***
Share this article with your facebook friends
This site contains copyrighted material the use of which has not always been specifically authorized by the copyright owner. We are making such material available in our efforts to advance understanding of environmental, political, human rights, economic, democracy, scientific, and social justice issues, etc. We believe this constitutes a 'fair use' of any such copyrighted material as provided for in section 107 of the US Copyright Law. In accordance with Title 17 U.S.C. Section 107, the material on this site is distributed without profit to those who have expressed a prior interest in receiving the included information for research and educational purposes. For more information go to: http://www.law.cornell.edu/uscode/17/107.shtml. If you wish to use copyrighted material from this site for purposes of your own that go beyond 'fair use', you must obtain permission from the copyright owner.