Chuck Hagel to Be Sworn in as US Defense Secretary After Senate Confirmation
France 24, February 27, 2013
By News Wires (text)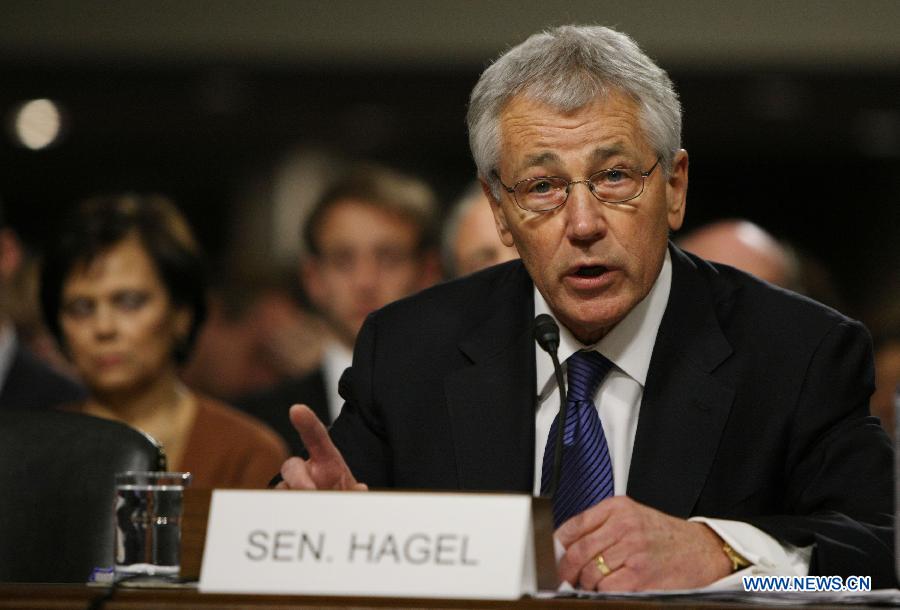 Former Republican senator Chuck Hagel will be sworn in as defence secretary on Wednesday, a day after receiving Senate confirmation following a bitter vetting process that saw him grilled over his views on Israel and Iranís nuclear ambitions.
The US Senate confirmed Chuck Hagel to be secretary of defense Tuesday, ending a long and acrimonious nomination process and handing President Barack Obama a boost as he fills his second-term cabinet.
After a bruising confirmation hearing and a 10-day delay engineered by Republicans, Senators voted 58-41 to approve the former Republican senator and decorated Vietnam War veteran for the post held by Leon Panetta.
Hagel, 66, who had faced tough questions about his past statements on Iran's nuclear program and US-Israeli relations, is due to be sworn in on Wednesday and to speak to Defense Department civilians and troops at the Pentagon.
Four Republicans -- including, surprisingly, Tea Party-backed Senator Rand Paul -- joined the majority Democrats in approving Hagel, after 18 Republicans voted earlier to overcome the blocking tactics and allow a full vote.
Obama welcomed the "bipartisan confirmation," saying it allowed him to "have the defense secretary our nation needs and the leader our troops deserve."
"I will be counting on Chuck's judgment and counsel as we end the war in Afghanistan, bring our troops home, stay ready to meet the threats of our time and keep our military the finest fighting force in the world," Obama said.
The nomination had been held up by several Republicans who had demanded more information on Hagel's finances and transcripts of speeches that he gave to international organizations.
But some of his strongest critics, including Republican senators Bob Corker, Lindsey Graham and John McCain, agreed to allow an up-or-down floor vote after a one-week recess, though all three eventually voted against the confirmation.
'They got what they wanted' Philip Crowther, FRANCE 24 US correspondent in Washington
The outcome ended a politically charged saga that saw Hagel stumble through congressional testimony when critics savaged his record on the Middle East.
Although his opponents failed in the end to derail his nomination, they have signaled that Hagel could be in for a rough ride when it comes to working with Congress, without the kind of bipartisan support his predecessors enjoyed.
He also survived a tense committee vote that saw him subjected to such harsh comments that fellow Vietnam veteran McCain warned fellow Republicans that they should not impugn the patriotism of "an honorable man."
Hagel himself said he was honored by the Senate confirmation, and suggested he was eager to put aside the bitter political battle on Capitol Hill.
"I will work closely with Congress to ensure that we maintain the strongest military in the world and continue to protect this great nation," he said in a statement.
Senate majority leader Harry Reid sounded relieved at the outcome, but got in a few more digs at his opponents.
"Senator Hagel is the first nominee for secretary of defense to be filibustered in the history of the United States," Reid said.
"Politically motivated delays send a terrible signal to our allies and to the world," as well as to US troops serving in Afghanistan, Reid said.
Democrats had argued that the delay could harm US military readiness and credibility at a time of tension in the Middle East, concern over Iran's nuclear ambitions, and North Korea's recent atomic test.
Compounding the problems facing Hagel is $85 billion in across-the-board spending cuts set to begin Friday, which could ravage many military programs and lead to furloughs of the Defense Department's 800,000 civilian workers.
Despite Hagel's impressive Vietnam War record, some Republicans insist his previous allegedly dovish position on Iran and supposedly lukewarm support for US-ally Israel disqualify him to be defense chief.
Although Hagel had a mostly conservative record as a senator, his Republican colleagues have never forgiven him for his outspoken criticism of president George W. Bush's handling of the Iraq war.
He called the administration's effort at the time "beyond pitiful," and when Bush planned a surge of additional troops in 2006, Hagel said it would be "the most dangerous foreign policy blunder in this country since Vietnam."
Hagel's confirmation marks a double victory for Obama, whose pick for Treasury secretary, Jack Lew, passed the Senate Finance Committee despite some qualms about his reputation as a doctrinaire Democrat with ties to Wall Street.
(AFP)
This site contains copyrighted material the use of which has not always been specifically authorized by the copyright owner. We are making such material available in our efforts to advance understanding of environmental, political, human rights, economic, democracy, scientific, and social justice issues, etc. We believe this constitutes a 'fair use' of any such copyrighted material as provided for in section 107 of the US Copyright Law. In accordance with Title 17 U.S.C. Section 107, the material on this site is distributed without profit to those who have expressed a prior interest in receiving the included information for research and educational purposes. For more information go to: http://www.law.cornell.edu/uscode/17/107.shtml. If you wish to use copyrighted material from this site for purposes of your own that go beyond 'fair use', you must obtain permission from the copyright owner.