Syria: Brahimi Meets Assad in Wake of Hama Bakery Massacre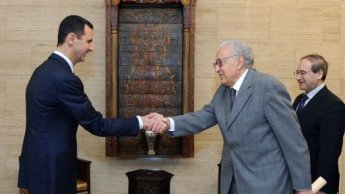 24/12/2012
UN's Brahimi meets Assad in wake of Hama air strike
Special envoy Lakhdar Brahimi has met with Bashar al-Assad in Damascus for talks aimed at resolving the country's bloody civil war, one day after an air strike on a bakery in the central city of Hama province killed dozens.
UN-Arab League envoy Lakhdar Brahimi met President Bashar al-Assad in the Syrian capital of Damascus on Monday to discuss a solution to a 21-month-old conflict, which has seen violence rise across the country and the capital.
The veteran Algerian statesman drove to Damascus because of fighting around the city's international airport made it impossible to fly –a sign of how the conflict is paralysing much of Syria.
Brahimi told reporters his meeting with Assad dealt with the general conditions in Syria, and the two discussed potential solutions to a crisis that has killed more than 44,000 people, according to activists.
"I told him what I was seeing abroad and about the meetings I had with different officials in the region and abroad," Brahimi said. "The situation in Syria still is a reason for worry. We hope that all sides work toward the solution, as the Syrian people want."
FRANCE 24 correspondent Adam Pletts, reporting from Lebanon, described Brahimi's meeting with Assad as "the latest in a long line of mediation efforts, none of which have really had any success."
"There are very low expectations of anything concrete coming out of this at the end of the day," Pletts said.
Killed in bakery line
The trip is Brahimi's third to Syria in almost as many months. His talks with Assad came one day after a deadly air strike on a bakery in Halfaya, a town under rebel control in Syria's central Hama province.
"There is no way to really know yet how many people were killed. When I got there, I could see piles of bodies all over the ground. There were women and children," said Samer al-Hamawi, an activist from the Syrian Observatory for Human Rights in Halfaya. "There are also dozens of wounded people."
Rebel forces overran Halfaya last week as part of a greater campaign by rebels fighting to topple Assad.
Another activist said locals were still sifting through the wreckage, trying to tell the dead from the wounded.
More than a thousand people were standing in line at the bakery when the strike hit, activists reported. In a country ravaged by conflict, people wait for hours to buy basics such as bread, which has been made scarce by fuel and flour shortages.
"We hadn't received flour in around three days so everyone was going to the bakery today, and lots of them were women and children," a man told reporters on the ground. "I still don't know yet if my relatives are among the dead."
New York-based Human Rights Watch condemned army air strikes on bakeries earlier this year, arguing that in some incidents the military was not using enough precision to target rebel sites and in other instances may have intentionally hit civilians.
Syria envoy meets Assad as opposition frustration grows
By Erika Solomon
Mon Dec 24, 2012 8:51am EST
BEIRUT (Reuters) -
Syria special envoy Lakhdar Brahimi discussed solving the country's conflict with President Bashar al-Assad on Monday, but the opposition expressed deepening frustration with the mission following what it called the latest massacre of civilians.
Underlining how rebels are taking the battle close to Assad's doorstep, the U.N. and Arab League envoy had to drive to Damascus from Lebanon on the eve of the meeting as fighting around the international airport made it impossible to fly in.
Brahimi said his talks with Assad had dealt with possible solutions to a crisis that has killed more than 44,000 people, according to activists.
"I told him what I was seeing abroad and about the meetings I had with different officials in the region and abroad," Brahimi told reporters. "The situation in Syria still is a reason for worry. We hope that all the sides work toward the solution, as the Syrian people want."
Monday's meeting was Brahimi's third with Assad and violence has greatly escalated since the series began.
Syria's opposition vented its anger at what it called a silence over the unabated killing of civilians by Assad's forces. On Sunday, dozens of people were killed in the central town of Halfaya and many more wounded. Activists blamed an air strike that hit a bakery where a crowd was queuing in Halfaya, which was seized by rebels last week.
"Silence over the massacres committed against the Syrian people is blackmail and a means to pressure the people, their revolution, and their leaders," said Moaz Alkhatib, who heads the opposition National Coalition.
"The Halfaya massacre is not just a massacre but a message from both those who are part of the regime and those who support it, and in short it is: Either you die or you accept the enslavement that we will force upon you," he wrote on his Facebook page.
However, Alkhatib did not accuse anybody directly for remaining silent over what would be one of the deadliest air strikes of the civil war.
Activists also said rebels in central Hama province shot down a government fighter jet on Monday, in clashes outside a village loyal to Assad.
Rebels have captured several military sites around the country. Damascus is now being dragged into the unrest, with fighting in its southern districts and the suburbs on its eastern outskirts.
The army has hit back at rebel-held areas near Damascus with daily air raids and artillery strikes that have sent thousands fleeing to the city center and over the border to Lebanon.
Brahimi is the successor of envoy Kofi Annan, who resigned in August after a failed ceasefire attempt and blamed both rising militarization in Syria and diplomatic deadlock abroad.
Little seems to have changed since then. Brahimi's own ceasefire efforts in October failed after four days.
Western powers such as the United States, which back the opposition, continue to call for Assad's removal. Syria's main arms supplier Russia has given mixed signals. Most recently the foreign minister of Russia, which along with China has blocked U.N. resolutions against Assad, said the president "is not going anywhere".
Brahimi's plan for an end to the Syrian crisis centers on a transitional government, but has left vague Assad's role. The opposition rejects anything but Assad's overthrow and says the government crackdown has been too fierce to accept dialogue.
POISON GAS REPORTS
With rebel gains growing, the army has been increasingly relying on its superior weaponry. It has used air strikes and even long range, scud-type missiles, according to U.S. and NATO reports.
Western powers have warned Assad that using chemical weapons would be a "red line", which they implied would draw international involvement in the conflict.
Syria repeated on Sunday that it would never use chemical weapons, but activists released reports later that day of what they said was a poison gas attack in the city of Homs.
The reports are difficult to confirm, as the government restricts media access in Syria.
The Syrian Observatory for Human Rights gathered activist accounts of the incident, which said that six rebel fighters were killed after inhaling smoke on the front line of Homs's urban battleground.
"White smoke without a smell spread throughout the area after regime forces threw grenades that emitted white smoke when they hit a wall," the Observatory said. "Those who inhaled the gas said they felt dizzy and suffered headaches and some suffered seizures."
The Observatory, a British-based group with a network of activists across the country, called on the International Committee of the Red Cross to send a medical team to the area to determine what had happened.
A previous report of poison gas was determined to be false by some military experts, but none has commented on the reported Homs attack.
This site contains copyrighted material the use of which has not always been specifically authorized by the copyright owner. We are making such material available in our efforts to advance understanding of environmental, political, human rights, economic, democracy, scientific, and social justice issues, etc. We believe this constitutes a 'fair use' of any such copyrighted material as provided for in section 107 of the US Copyright Law. In accordance with Title 17 U.S.C. Section 107, the material on this site is distributed without profit to those who have expressed a prior interest in receiving the included information for research and educational purposes. For more information go to: http://www.law.cornell.edu/uscode/17/107.shtml. If you wish to use copyrighted material from this site for purposes of your own that go beyond 'fair use', you must obtain permission from the copyright owner.