Person of the Year 2016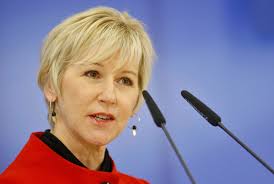 Swedish Foreign Minister, Margot Wallstrom,
By Hassan El-Najjar
December 13, 2016
The Swedish Foreign Minister, Margot Wallstrom, has earned for herself and for the Swedish government, and the Swedish people the well-deserved status of the "Person of the Year 2016."
Not only Sweden has been consistent in its unwavering support for human rights, peace, and progress around the world but also has been standing firm against aggressors, whoever they maybe, even in the case of the Israeli apartheid, occupation regime.
In September 17, 1948, the Zionist terrorists assassinated the Swedish UN mediator, Count Folke Bernadotte, for his sympathetic stance towards the Palestinian people in their plight brought upon them by the Zionist invaders of their ancestral homeland.
Swedes also participated in the UN peace-keeping forces in Gaza for ten years, starting from the withdrawal of the Israeli invaders on March 7, 1957 until the beginning of June 1967, when the Israeli-Zionist invaders occupied Gaza again, together with the other Arab territories.
Successive Swedish governments maintained a sound understanding of the Middle East conflict, as caused by the Israeli-Zionist expansionist regime, which usurped Palestine from its rightful owners by the force of arms, changing them into refugees inside and outside their homeland.
However, the current Swedish Foreign Minister, Margot Wallstrom, has been exceptionally persistent in her outspoken support for the Palestinian people and their cause as well as in her criticism of the Israeli-Zionist, expansionist, apartheid regime for its denials of the Palestinian inalienable rights recognized by the UN, particularly their right for an independent and viable state.
It takes courage and adherence to principles to stand up to the Israeli occupation apartheid regime, which is supported by the global Zionists who control the world main super powers, and that what Margot Wallstrom, her government, and her people did.
Therefore, she deserves the honorable title of "The Person of the Year 2016," indeed!
***
***
Swedish Foreign Minister, Margot Wallstrom, Welcomed in Palestine, Boycotted in Israel, Because of Swedish Recognition of Palestine as a State
December ,13, 2016
| | |
| --- | --- |
| | |
| Swedish Foreign Minister, Margot Wallstrom, Boycotted by Israeli Officials as an Unwelcome Visitor for her Pro-Palestinian Statements, December ,13, 2016 | Swedish Foreign Minister, Margot Wallstrom, at a UN meeting |
Sweden's foreign minister to visit Palestine this week
The Local news@thelocal.se
12 December 2016
The Local news@thelocal.se
Foreign Minister Margot Wallström is set to pay a three-day visit to Palestine this week, to discuss democracy, equality and its relations with Israel.
The Swedish foreign minister will meet President Mahmoud Abbas and her Palestinian counterpart Riad Malki during her visit from December 15th to 17th, said the foreign ministry.
"The focus of the talks is how Sweden and Palestine can deepen relations after Sweden's recognition of Palestine, the importance of democratic development, respect for human rights and gender equality and what can be done to strengthen the hope of a two-state solution, in which Israel and Palestine can live side by side in peace and security," her office said in a statement.
Sweden's ruling centre-left coalition recognized Palestine as a state shortly after it came to power two years ago, a controversial move hailed in some quarters and strongly criticized in others.
Israel responded by recalling its ambassador Isaac Bachman. He returned to Stockholm a few weeks later, but the relationship between Sweden and Israel has been frosty since.
Wallström's outspoken comments about the Israel-Palestine conflict made the country declare her persona non grata earlier this year. And repeated requests by the Swedish government to allow its representatives to visit Israel have been denied.
The visit to Palestine comes as France continues to push for an international conference to breathe new life into the peace process and bring the two countries back to the negotiation table.
http://www.thelocal.se/20161212/swedens-foreign-minister-to-visit-palestine-this-week
***
Israel officials snub Swedish foreign minister
AFP/The Local news@thelocal.se 13 December 2016
No Israeli officials will meet Sweden's foreign minister during her trip to the region, a spokesman has said.
Erik Wirkensjö, spokesperson for Swedish Foreign Minister Margot Wallström, told the AFP news agency she had wanted to meet both Israeli and Palestinian officials during her visit from Thursday to Saturday.
"This time it was not possible to visit Israel," said Wirkensjö.
Asked why there were no meetings planned, he said such questions must be "asked to the Israelis".
Israeli foreign ministry spokesman Emmanuel Nahshon blamed "schedule problems" and declined to provide further details.
Earlier, Wallström told Swedish news agency TT: "I would have gladly seen myself travel to Israel as well, but unfortunately they do not welcome it."
There is no international airport in the Palestinian territories. Wirkensjö declined to comment on whether Wallström would fly to an Israeli airport and then travel to occupied West Bank or go via Jordan. She was not denied entry to Israel, he said.
Wallström will meet Palestinian president Mahmud Abbas and Foreign Minister Riad al-Malki during her trip.
In January, Israel's Deputy Foreign Minister Tzipi Hotovely said Wallström would no longer be welcome in the country after she called for investigations into the killings of Palestinian assailants by Israeli forces.
Wallström had earlier said Israel must avoid "extrajudicial executions".
Prime Minister Benjamin Netanyahu denounced her call as "outrageous".
Israeli forces have faced accusations that they used excessive force in some cases in which knife-wielding Palestinians were killed.
A wave of Palestinian knife, gun and car-ramming attacks erupted in October 2015, but the violence has greatly subsided in recent months.
Since October 2015, 242 Palestinians, 36 Israelis, two Americans, a Jordanian, an Eritrean and a Sudanese have been killed, according to an AFP count.
Relations between Sweden and Israel have been frosty since Sweden recognized Palestine as a state shortly after Wallström became Foreign Minister in October 2014.
http://www.thelocal.se/20161213/israel-officials-snub-swedish-foreign-minister
***
Swedes demand Israel repair Gaza ship after court victory
AFP news@thelocal.se 8 August 2016
The ship being escorted by Israeli authorities in 2012. Photo: AP Photo/Ariel Schalit AFP news@thelocal.se 8 August 2016 14:29 CEST+02:00 Swedish rights group Ship to Gaza has said it will ask Israeli authorities to repair a blockade-busting ship they impounded in 2012, after Israel's Supreme Court ordered its release.
Ship to Gaza spokesperson Dror Feiler told the AFP news agency that the Finnish-flagged Estelle was in Israel's northern port of Haifa, still afloat but unfit to put to sea.
"Last time we had a person who checked the boat, it was maybe one year or nine months ago, the condition of the boat was not good, to put it mildly," he said in English by phone from his home in Sweden.
"It's in salt water and we don't know the condition of the engine, we don't know the condition of the sails," he said. "We will demand that the boat will be put into seaworthy condition so we can sail."
Israeli-born activist Feiler was one of 11 Swedish nationals on the vessel when the Israeli navy commandeered it in 2012 as it neared the coast of the blockaded Gaza Strip.
He had previously renounced his Israeli citizenship and held Swedish nationality.
The Swedes, along with activists from Norway, Canada, Spain, Italy, Greece and Finland, were arrested and later deported.
In its ruling on Sunday the Supreme Court said the state impounded the ship illegally and awarded its owners legal costs of 40,000 shekels ($10,500).
"In light of everything that was said in the ruling, the judges (…) ordered the release of the ship immediately," a justice ministry statement said.
Feiler said Ship to Gaza would now file a claim for damages.
Story continues below…
"They kept the boat for four years and now the court is stipulating that it was illegal so we shall try to get economic compensation," he said. "It's much larger [than the court expenses]."
Gaza has been under an Israeli blockade since 2006. It was tightened in 2007 after the Islamist group Hamas seized control in the area.
The Estelle voyage was one of several unsuccessful attempts to breach the cordon since 2010, when Israeli commandos killed ten Turkish activists in a raid on a flotilla seeking to run the blockade.
***
http://www.thelocal.se/20160808/swedes-demand-israel-repair-ship-after-court-victory-gaza-estelle
***
***
Sweden's Foreign Minister Margot Wallstrom
By Laurence Peter BBC News, 20 January 2016
Margot Wallstrom - key dates
Image copyright AFP
1954 - Born in Skelleftea, in Sweden's far north
1979 - Elected to Swedish parliament, aged 25, after Social Democrat activism
1988 - Appointed minister for consumer affairs, women and youth, aged 34
1990s - Minister of culture, then minister for social affairs
1999 - Appointed to European Commission, in charge of EU environmental policy
2004-2010 - Vice-President of European Commission, under Jose Manuel Barroso
2010-2012 - UN Special Representative on Sexual Violence in Conflict
2014 - Swedish Foreign Minister
***
Diplomatic quarrels with Israelis and their Zionist supporters
Ms Wallstrom's tenure as foreign minister has been stormy.
Her first significant step in the job was to recognise Palestine as a state in 2014 - a move which immediately soured relations with Israel. Very few of the EU's 28 member states have recognised Palestine.
Israel has found her recent comments about knife attacks by Palestinians to be so incendiary that it protested to the Swedish ambassador and declared Ms Wallstrom persona non grata.
Ms Wallstrom had called for an inquiry to establish whether Israel had carried out "extrajudicial executions" in response to the attacks.
Some 150 Palestinians have been fatally shot in four months of violence, at least 100 of them while they were carrying out attacks, Israel says. More than 25 Israelis have been killed.
On her Facebook site in December Ms Wallstrom sought to defuse the row, saying her words had been "blown out of reasonable proportion".
Responding to angry Facebook messages, her spokesman explained that she had been criticising "disproportionate" reactions to violence, not accusing Israel of "extrajudicial executions".
Earlier last year Saudi Arabia recalled its Stockholm ambassador after Ms Wallstrom criticised the Saudi human rights record, especially the restrictions faced by women and the flogging of a dissident Saudi blogger.
She defended her criticisms of "medieval" Saudi practices, saying she had received many messages of support.
Feminism
Her outspokenness on human rights is part of what she describes as a "feminist" foreign policy.
The Saudi-Swedish diplomatic quarrel is reckoned to have cost Swedish arms manufacturers millions in lost contracts. Her stance caused anxiety in Swedish business circles.
But Prof Hinnfors said plenty of Swedes - especially on the left - applauded her defence of human rights. "Opinion polls indicate that a majority of Swedes say yes, they are feminists - so her foreign policy is not a break with the general sentiment," he said.
There has also been tension with Morocco, since the Swedish parliament voted to recognise Western Sahara as an independent republic. Formerly a Spanish province, the territory has been under Moroccan control since 1976.
But last week the Swedish government decided against recognition of Western Sahara, pledging instead to help UN diplomatic efforts.
Reports in Sweden pointed out that Rabat had put pressure on Swedish politicians and threatened to block the opening of Ikea stores in Morocco.
http://www.bbc.com/news/world-europe-35351481
***
Share the link of this article with your facebook friends
This site contains copyrighted material the use of which has not always been specifically authorized by the copyright owner. We are making such material available in our efforts to advance understanding of environmental, political, human rights, economic, democracy, scientific, and social justice issues, etc. We believe this constitutes a 'fair use' of any such copyrighted material as provided for in section 107 of the US Copyright Law. In accordance with Title 17 U.S.C. Section 107, the material on this site is distributed without profit to those who have expressed a prior interest in receiving the included information for research and educational purposes. For more information go to: http://www.law.cornell.edu/uscode/17/107.shtml. If you wish to use copyrighted material from this site for purposes of your own that go beyond 'fair use', you must obtain permission from the copyright owner.