Israel is an Apartheid, Racist State, Despite John Kerry's Apology
By Hassan El-Najjar
April 29, 2014
The US Secretary of State, John Kerry, dared yesterday to warn the Netanyahu occupation government that Israel will become an apartheid state if the Israeli occupation of the Palestinian territories continues.
Quickly, he retracted his comment like all other American politicians with the exception of President Jimmy Carter, who warned Israel from being an apartheid state in absence of peace in Palestine. Carter stood by his opinion, which he expressed in his book, despite the Zionist campaign against him until now.
Since its war of aggression in 1967, Israel has become an apartheid state, as the Palestinian people in the West Bank and Gaza have been living under the Israeli military rule without any national or political rights.
Palestinians in the West Bank and Gaza have neither been given the Israeli citizenship nor allowed to have their own independent state. They have been confined to their diminishing territories with all kinds of restrictions. Their land, air, natural resources, and water have been taken away from them by the racist Israelis ever since.
Since its inception in 1948, Israel was a racist state, as it has deprived the Muslim and Christian Palestinian Arabs from their lands and rights while allowing all rights to Jewish immigrants who dispossessed the oppressed Palestinians.
The suffering of the Palestinian people on the hands of the Israeli oppressive invaders and their Zionist supporters never stopped.
This suffering could not have happened or continued without the blind support for racist, apartheid Israel by the Jewish and Christian Zionists in the United States, who forced John Kerry today to retract his comment and apologize to the apartheid, racist Israelis for describing them as such.
For researchers, activists, and real patriots, add this news story to the long inventory of evidence about who really rules America, the elected officials and their officers or the Israel-First Zionists?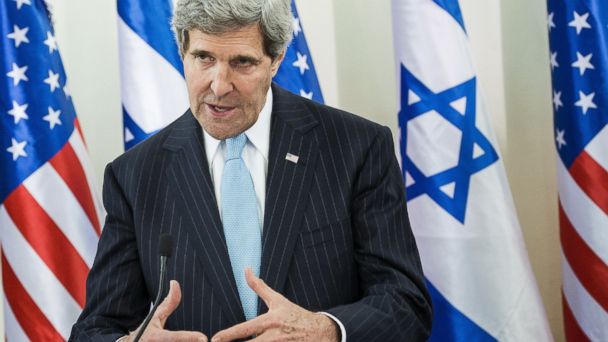 State Department Explains John Kerry's 'Apartheid' Comment Amid Backlash
CBS News, April 29, 2014
Speaking to a private audience about the Middle East peace process, Secretary of State John Kerry did what for many Israel supporters is the unthinkable and used the A-word: apartheid.
"A two-state solution will be clearly underscored as the only real alternative. Because a unitary state winds up either being an apartheid state with second-class citizens — or it ends up being a state that destroys the capacity of Israel to be a Jewish state," Kerry said Friday in remarks originally reported by the Daily Beast.
For many Jewish groups, the suggestion that Israel is, or even could be, carrying out the systematic oppression and discrimination of Palestinians living within its borders is anathema — despite the fact that major Israeli officials, including Justice Minister Tzipi Livni and former Prime Minister Ehud Barak, have acknowledged the risk that it could become an apartheid state.
Kerry's comments also come at a particularly sensitive time in the Middle East, as the deadline for the current round of nine-month peace talks is Tuesday, with no sign that negotiations will be extended.
State Department spokeswoman Jen Psaki sought to put Kerry's comments in context Monday, noting that he remains committed to a two-state solution and was not accusing Israel of having a current policy of apartheid.
"The secretary does not believe and did not state publicly or privately that Israel is an apartheid state, and there's an important difference there. Israel is obviously a vibrant democracy with equal rights for all of its citizens," she said.
"He certainly didn't say 'is,'" she added later.
The American Israel Public Affairs Committee, or AIPAC, countered that it is never acceptable to link Israel with the practice of apartheid.
"Any suggestion that Israel is, or is at risk of becoming, an apartheid state is offensive and inappropriate," AIPAC's statement read in part. "Israel is the lone stable democracy in the Middle East, and protects the rights of minorities regardless of ethnicity or religion."
And it didn't take long for members of Congress to weigh in, with House Majority Leader Eric Cantor, R-Va., releasing a statement urging Kerry to apologize to the Israeli government and people.
"The use of the word apartheid has routinely been dismissed as both offensive and inaccurate, and Secretary Kerry's use of it makes peace even harder to achieve," the statement read in part.
Sen. Ted Cruz, R-Texas, suggested Kerry shouldn't even have the chance to apologize, as he took to the Senate floor to call for the secretary to step down.
"Before any further harm is done to our alliance with Israel, he should offer President Obama his resignation and the President should accept it," Cruz said.
Kerry Apologizes for Apartheid Comments
The Daily Beast, April 29, 2014
In a statement Monday evening, the secretary of state said if he 'could rewind the tape,' he wouldn't have used the word 'apartheid' in his warning about Israel.
John Kerry apologized Monday for warning last week that the lack of a two-state solution in the Middle East could lead to Israel becoming an "apartheid state." Kerry's remarks, made in a closed door meeting of the Trilateral Commission and first reported by The Daily Beast Sunday night, provoked strong reactions from across the political spectrum.
In a statement issued Monday evening, Kerry defended his record as a supporter of Israel but also said, "If I could rewind the tape, I would have chosen a different word to describe my firm belief that the only way in the long term to have a Jewish state and two nations and two peoples living side by side in peace and security is through a two state solution."
Jewish organizations in the United States like AIPAC and the Anti Defamation League quickly expressed their dismay at Kerry's private apartheid remarks. In a statement, Abe Foxman, the president of the Anti Defamation League, said, "It is startling and deeply disappointing that a diplomat so knowledgeable and experienced about democratic Israel chose to use such an inaccurate and incendiary term." These remarks were echoed in a statement from AIPAC, the bipartisan pro-Israel lobby, which said, "Any suggestion that Israel is, or is at risk of becoming, an apartheid state is offensive and inappropriate."
Politicians also got involved in the brouhaha. House Majority Leader Eric Cantor (R-VA) urged Kerry to apologize, saying that the secretary of state's remarks "are extremely disappointing. The use of the word apartheid has routinely been dismissed as both offensive and inaccurate, and Secretary Kerry's use of it makes peace even harder to achieve." Florida Senator Marco Rubio, a possible 2016 presidential candidate, shared Cantor's outrage, saying, "These comments are outrageous and disappointing."
But not everyone viewed Kerry's remarks as a gaffe. J Street, the dovish, left-wing Middle East lobbying organization, issued a statement saying, "Instead of putting energy into attacking Secretary Kerry, those who are upset with the Secretary's use of the term should put their energy into opposing and changing the policies that are leading Israel down this road."
At Monday's State Department press briefing, spokeswoman Jen Psaki made clear that Kerry believes Israel is "a vibrant democracy with equal rights for its citizens," and noted the secretary of state was merely warning of the possible long-term consequences if a two-state solution couldn't be reached.
This site contains copyrighted material the use of which has not always been specifically authorized by the copyright owner. We are making such material available in our efforts to advance understanding of environmental, political, human rights, economic, democracy, scientific, and social justice issues, etc. We believe this constitutes a 'fair use' of any such copyrighted material as provided for in section 107 of the US Copyright Law. In accordance with Title 17 U.S.C. Section 107, the material on this site is distributed without profit to those who have expressed a prior interest in receiving the included information for research and educational purposes. For more information go to: http://www.law.cornell.edu/uscode/17/107.shtml. If you wish to use copyrighted material from this site for purposes of your own that go beyond 'fair use', you must obtain permission from the copyright owner.